Lessons from Dad AKA Mr. Chung


By Heidi Chung
Illustration Sophia Chang

My dad once told me to find a leader that inspires me and to study their actions. For him, he was fascinated by Napoleon. He told me stories of how Napoleon was focused on one goal, dashing from city to city, conquering new lands. Though I didn't share the same interest in leadership as my dad, his advice led me to pay attention to leaders who had a significant impact on their communities.

I've been trying to figure out my place in the communities that I am (and not) a part of and how I could contribute to them. The options seemed endless, and it felt nearly impossible to choose and stick to a lane. If that wasn't already a challenge, the pandemic hit, making it clearer to me just how much I wanted to have a consistent community to give back to. I just had to figure out how.

While reading Issue 01 of Team Epiphany Times, I hit a gold mine when I read Janelle Wallace's article "Looking Back to Move Forward: Archiving & Collecting from Elders." She explained the importance of collecting relics and stories from previous generations within your own lineage to archive accurate portrayals of our lives and accomplishments. I was inspired by the intention of seeking intergenerational conversations as a means of learning from their experiences to better inform our own. Ultimately, I decided to seek out answers from my dad who knew a lot about being a leader in his community. He taught me three lessons:


Lesson #1: Know Your Strengths from Personal Achievements

My dad, aka Mr. Chung, at 24 years old, packed up his life in Korea and moved to the United States, equipped with two suitcases, a grasp of English words, and a head full of ideas and ambitions. He left behind what he knew in Korea—from the support of his parents and seven siblings to the familiarity of his childhood home and living among a community that was his own.

Within two years of living in Los Angeles, he and my mom quickly started their own denim wholesale business. He attributed his quick start in business to "coming to Los Angeles with one goal in mind and working really hard to be the best." Between working on denim designs and delivering products to customers, he reached his own goals and found his way into bigger offices, with more employees to manage. He knew his strength was his drive to be the best.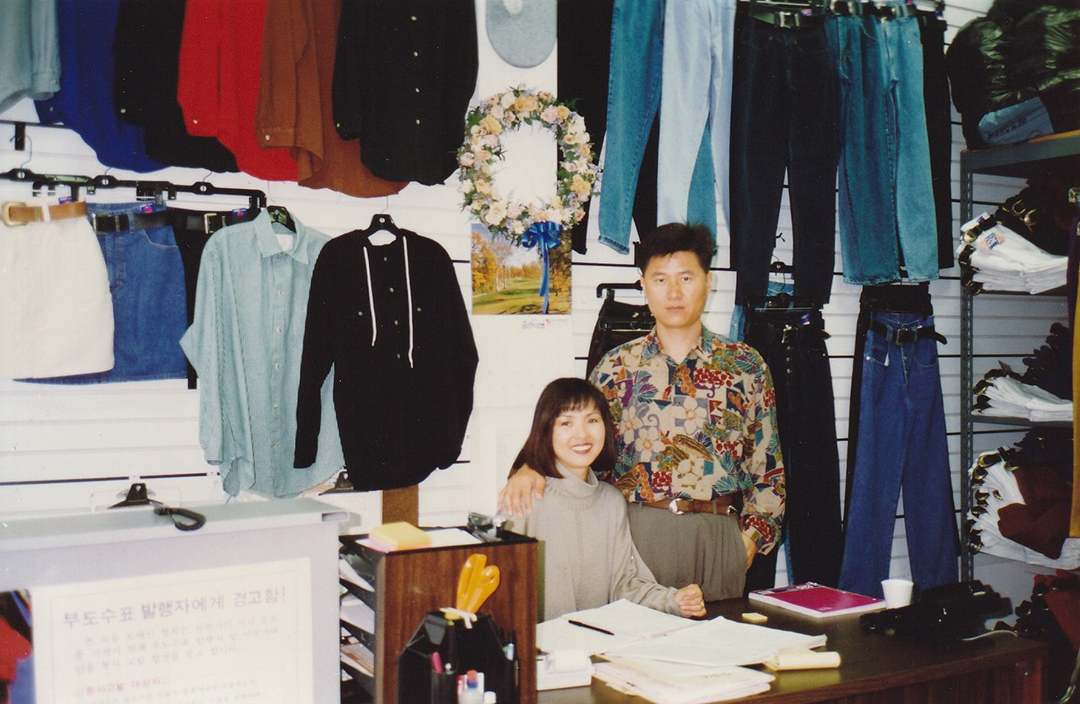 Image Courtesy of The Author
Lesson #2: Giving Back to the Community Leads to Responsibility, Ownership & Care

After spending 10 years focused on his own company, he was approached by his peers to join an organization led by Korean business owners in LA; its mission was to help the Korean community with business and professional development.

Knowing the Korean Chamber of Commerce was a big part of my dad's life from seeing newspaper clippings throughout the years and attending fundraisers, I finally, so many years later, asked what his role was in the organization and how he came to be so prominently involved.

He explained, at first, that some of his duties were helping plan seminars, inviting guests, seeking sponsorships, and fundraising for the LA chapter. The longer he was involved, the longer he had the ability to develop ownership of some responsibilities, create goals for the organization as a whole, and start to plan out how to execute those goals in the future.



Lesson #3: Intimate Knowledge of Community Leads to Opinions of How to Create the Most Effective Change



"And then I became President of the Korean Chamber of Commerce for all the chapters in the United States," my dad stated.

"Ok, Dad," I laughed. "But how did you come into that role?"

He took a pause, gathering his thoughts and broke down what was probably years of lessons in the simplest way to me: "When I joined the group, I made sure I understood the goal. Our goal was to help Korean businesses have a chance to succeed. I had to focus on the goal and work really hard to achieve it. After doing that for years, it became my turn to lead."

He found the goal, stuck to the goal, and eventually made his way to the top. Got it. But how does one access that leadership quality, especially outside of a work environment? I was curious about the difference between the two roles he had to play everyday as President of the Korean Chamber of Commerce and President of Just Black Denim. I asked, "Did one skill help with the other?"

He believed that business owners make decisions and operate as individuals in order to make a profit while looking out for their employees. But as the head of an organization, he learned that you think and make decisions as a group. He added, "It's possible to make an impact for a cause alone, but much stronger when involving many people." Not only that, when you're helping support and build a community, you "need to be with people who are willing to sacrifice their time for the cause. The justification of your actions should be present and strong."





Image Courtesy of The Author



He's always been my hard-working, busy, and supportive Dad to me, but I hadn't realized how much intention went behind building his family, business, and community. That intention came from years of earning roles by hard work, seeking clear goals, and having an innate desire to do right by his community.

Both of us didn't know it at the time when he told me about Napoleon, but I came to find that he had been shaping the model of a community leader for me.

︎




Image Courtesy of The Author