Staying Social with Quarantine Cocktails



By Heidi Chung


Illustration by

Danielle Vogl

I spent six hours on three happy hour Zooms last Friday. I'm sure this would warrant a wince from anyone at this time, as we're exhausted from the seemingly non-stop digital interactions, but this was more than just a consensual decision for myself. It really ended up filling a void I didn't know I had! (Bar hopping from home, anyone?) If you're feeling spirited, here's why you too should give the online happy hour a shot, no pun intended, along with some of my favorite cocktail recipes to pair with inspired by some of the best pours served at Team Epiphany events.

Disclaimer: If alcohol isn't your thing, replace "cocktail" with "exotic beverage" and you'll come away with the same message and effect. An enhanced beverage of any sort will energize your palette and make the most of ordinary ingredients while helping you connect with friends and fam. This way, we'll hit the same feeling, this ethosI want to share with you all in these strange times.

As an event producer, my life pre-Quarantine, without exaggeration, was more than 80% social. That meant everything from catching up with friends to creating experiences where invited guests congregated to enjoy a product, a show, or just a vibe. No matter how hard I try in NYC to live a wannabe hermit lifestyle, one way or another, I end up at a bar or an event happily sipping on a Scotch on the rocks and connecting with others.




At our Team Epiphany events, it's ritualistic for guests to go straight to the bar. It has less to do with actual alcohol consumption, but rather, it's a familiar place where guests can grab a cocktail while waiting for friends, or have a moment to catch up, or do a solid for someone in need of a drink. It's habit, practice, and ritual all in one.

And we don't take that ritual lightly what with our light-up bars, cued Champagne towers, incredible floral arrangements, syrups, and garnishes galore. Handsome waiters prepped with brand knowledge shake or stir custom drinks fit for the occasion. With so many drinks poured and glasses raised and toasts made, my team and I have learned more than a few ways to elevate common drinks to the next level.

The first tip is to pick your finest spirit. For us, Glenfiddich single malt Scotch whisky, 1800 Tequila, and Wray & Nephew rum are some of our current favorites. Next tip: Make the most of fresh ingredients such as lemons, limes, grapefruit, mint, and fresh-squeezed juices. Cut your citrus into half moons or wedges and muddle them with sugar for extra ~flavor~. Finally, bubbles: For maximum customization, seek those fizzy friends that range anywhere from seltzer water, Ting soda, Coca-Cola, ginger beer, flavored tonic water, and even, dare I say... Champagne?

Now, let's fast forward to the present, where all of our communication happens through screens and smart devices. It will be more important than ever to keep connecting through our virtual "bars" at home. Making cocktails and sharing moments with friends will help bring a sense of normalcy. Having access to quality food and drink is a gift, too, of course. And we've got resources on how to get fresh and local produce at cost and are happy to share! Drop Team Epiphany a line or a DM sometime.

Take a minute to grab a virtual drink with a friend to catch up, feel the benefits of taking yourself out of your own space, and put your basic ingredients to use. Below are examples of three cocktails that utilize fresh, simple ingredients and activities to pair with.

To keeping spirits high. Cheers!


---
Beverage
Slay & Chaseé


You've been at the bar for two hours. It's been kind of dead, but all of a sudden, your crew and favorite DJ come through, and you're starting to feel the night turn the corner toward something truly fascinating. She puts on your favorite song and you just go for it. Straight up. Dance like no one else is there.

Activity
Tune in to your favorite artist's latest livestream with friends.

Recipe [1 serving]


Wray & Nephew Rum (1.5 oz.)

Lime Juice (0.75 oz.)

Simple Syrup (0.75 oz.)
Pineapple Juice (0.75 oz.)
Angostura Bitters (2 dashes)
Mint Sprig/Grated Nutmeg


Combine Wray & Nephew, lime juice, simple syrup, pineapple juice, and angostura bitters in a rocks glass with ice. Shake if you have a cocktail shaker or stir rapidly. Garnish with a mint sprig or grated nutmeg.


---

Beverage
It Was A Good Day


Warm rays hitting your face and arms, a light wind blowing, feet pedaling. Riding your bike through the park. Bike basket heavy with cheese and charcuterie. A perfect summer day.

Activity
Virtual park picnic; blankets, snacks, friends strolling (Zooming) in and out over the course of the day.

Recipe [2-3 servings]


1800 Tequila (2.5 oz)

Fresh-Squeezed Lemon Juice (1 lemon)

Fresh-Squeezed Lime Juice (2 limes)

Sugar (2 tablespoons)

Soda Water

Handful of Mint

Combine lemon juice, lime juice, and sugar in a carafe. Add mint and use a wooden spoon to smash down the leaves and dissolve the sugar. Chill in the refrigerator for at least 30 min. Pour limeade mixture into a glass full of ice, tequila, and soda water and top with mint leaves!


---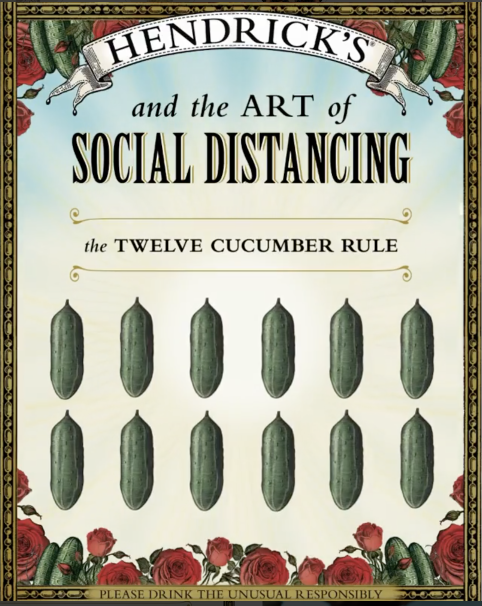 Beverage
You Rich, Rich

It's payday! Robe and slippers on in the spa, waterfalls-and-waves soundtracks replace city noise. Indulging on a day off.

Activity
Drink and draw; one person models or offers their apartment as the subject, take turns drawing or painting.

Recipe [2 servings]


Hendrick's Gin (2 oz.)

Superfine Sugar (1 tsp.)

Fresh Lemon Juice (1/2 oz.)

Brut Champagne (5 oz.)


Shake gin, lemon juice, and sugar with cracked ice in a chilled cocktail shaker. Strain into a glass and top off with Champagne. Add a lemon twist to the glass, if you please!

︎




---
Bonus: Team Epiphany Cocktail Menus From Past Events!

Coke Energy Launch Event NYC 2020, Insecure Block Party LA 2017, Wray & Nephew Pull Up! Series 2019, Billboard Hip-Hop Summit 2019